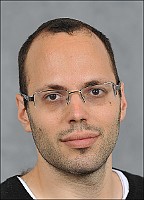 My name is Alon Ivtsan and I am currently working on a PhD in probability theory under the supervision of Gady Kozma at the Weizmann Institute of Science in Rehovot, Israel. I am currently working on questions related to first passage percolation and effective resistance on graphs. I attended Ron Peled's course on percolation at Tel Aviv University in the spring of 2013 and scanned my Hebrew lecture notes. These can be downloaded from here. The syllabus of the course can be found here. I completed my Masters degree at the Technion Institute of Technology under the supervision of Michael Cwikel in the field of interpolation of Banach spaces. Some of my results can be found here. During my Masters degree I took Uri Bader's course on random walks on groups and boundary theory. The scanned lecture notes in Hebrew can be found here.

The most interesting part of this page is my life observations. Another interesting part of this page is interesting things I have read. My thoughts on current affairs are expressed here. In addition, I have many interests, which include free software, drum 'n' bass music, nutrition, tennis, UK TV shows, books, professional wrestling, cartoons and word games (if the links don't work yet be patient and I will add the relevant material).

All my emails are GPG signed, so users of email software with support for GPG encryption can verify that I am the composer of the messages if they import my public keys. Anyone can also send me encrypted messages provided the public keys are offered (e.g. via a key server). I can be reached at ivtsanalon.be at hermes dot all2all dot org. The GPG public key of this email address can be found here.

I also have a university email which is aloniv at weizmann dot co dot il. Its GPG public key can be found here (UPDATE 09/2017: I uploaded a new key). I also have a Gmail address which I'm providing as well (despite not endorsing Google) as it might be the most reliable email of the three. It is alonivtsan at gmail dot com. The GPG public key for it can be obtained from here.